Matcha Cake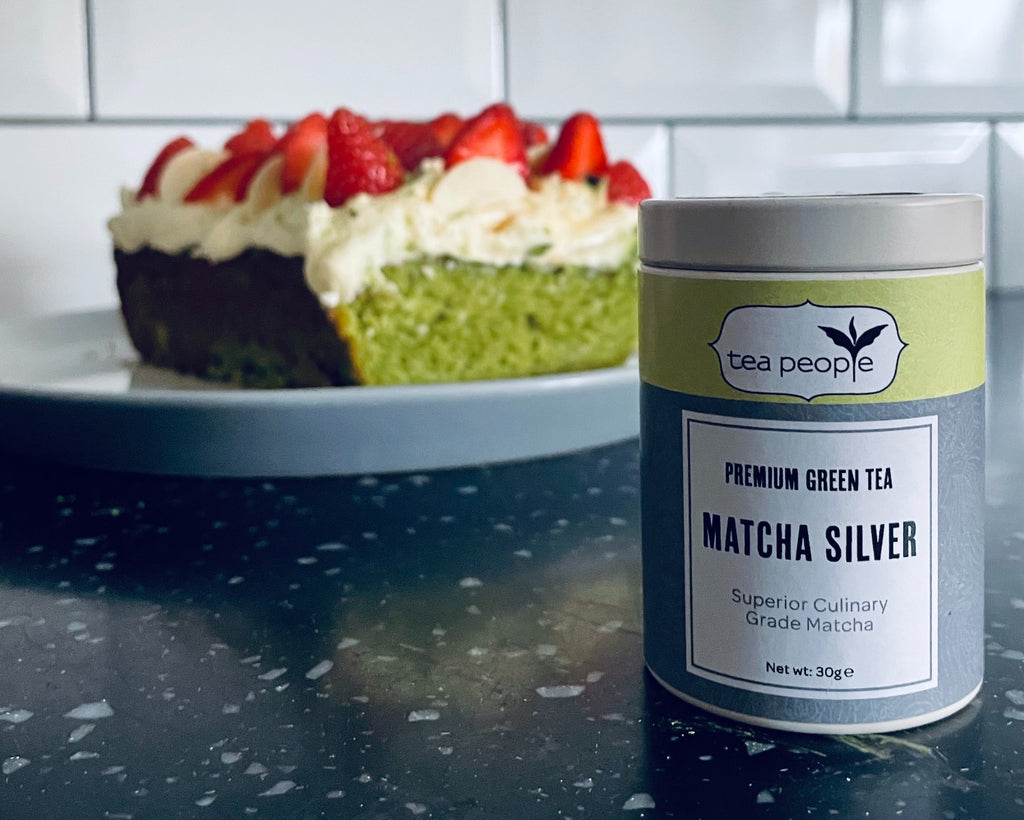 Matcha is a green tea that looks somewhat like hallucinogenic green cocoa, and is drunk whole rather than steeped and has a strong oceanic vegetal taste with a very sweet aftertaste. Due to the fact that it is drunk whole, this tea has at least 3 times the antioxidant found in other green teas and several times that found in a glass of orange juice.   
Matcha is also said to boost metabolism and help reduce cholesterol levels when it is drunk regularly. It is a very versatile drink and can be had hot or cold, sweetened or unsweetened. 
It goes particularly well with dairy and can even be used as an ingredient in a variety of foods ranging from cakes and ice creams to scones and cookies, which brings us to what we will be doing today. 
There are some amazing sweet treat recipes out there but we decided to try this Green Tea (Matcha) Cake with White Chocolate Frosting, using our stunning Matcha Silver (cooking grade matcha).
Prep Time 30 minutes
Cook Time 15 minutes
Total Time 45 minutes
Servings 8 servings
Ingredients
Green tea cake
1 cup unsalted butter softened
1 cup granulated sugar
1 cup all-purpose flour
2 tsp baking powder
3 egg yolks
3 egg whites
1 1/2 tbsp matcha powder
2 tbsp milk
White chocolate frosting
1 cup unsalted butter softened
1 1/2 cups confectioner's sugar
6 tbsp white chocolate melted
1/4 tsp salt
1 tsp milk
Instructions
Preheat oven at 375 degrees Fahrenheit. Grease the bottom and the sides of two 20-cm diameter with melted butter. Cover the bottom and sides of both pans with parchment paper, and grease the parchment papers once again with melted butter. Set aside.
In a large mixing bowl, mix the softened butter and granulated sugar using an electric mixer until well combined and soft. Add in the egg yolks and continue mixing using the electric mixer until well combined and creamy.
In a separate bowl, combine the all-purpose flour, baking powder, and Matcha Silver powder using a whisk. Pass the mixture through a sieve to make it uniform. Add the flour mixture into the butter-sugar-egg yolk mixture 1-2 tablespoons at a time and fold using a rubber spatula until they are well combined. If the batter is too dry to fold, add a couple of tablespoons of milk to moisten it up.
In a separate bowl, beat the egg whites using an electric mixer until it reaches soft peaks. Add the egg whites 1/3 at a time into the cake batter and fold gently using a rubber spatula.
Pour half of the cake batter into one baking pan, and the other half into the other baking pan. Bake at 375 degrees Fahrenheit for 12-15 minutes. To check, stick a toothpick in the middle of the cake. If the toothpick comes out clean, then the cake is ready. When the cakes are baked, remove immediately from the pans and let cool at room temperature.
To make the white chocolate frosting, mix together the butter, confectioner's sugar, melted white chocolate, salt, and milk in a large mixing bowl using an electric mixer until well combined and creamy. Refrigerate if it's not being used immediately.
To assemble the cake, place one cake layer on a flat surface and spread the frosting on top. Place another cake layer on top of the frosting. Finish by covering the top and sides with frosting. Top with matcha powder.