Eggless Matcha Scone Recipe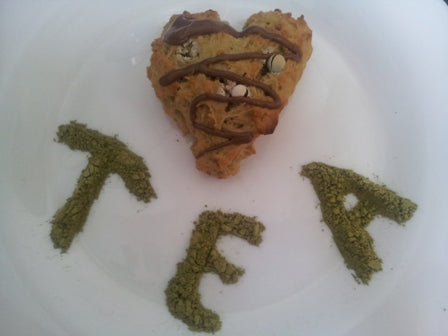 Here's an amazing eggless Matcha scone that I baked with some help from my 13 year old who is a keen teenager. The goodness of Matcha not just enhanced the taste, but also made me feel less guilty about eating those yummy scones with my afternoon tea 
Ingredients
200g/8oz Self raising flour
25g/1oz granulated sugar
1 teaspoon baking powder
1/2 teaspoon salt
50g/2oz margarine (polyunsaturated if possible)
1 cup chocolate chips(optional)
125ml (1/4 pt) cold milk (you can also substitute it with soy milk)
1 teaspoons Tea People |Matchapowder
Preparation
Pre-heat oven to 190C. Keeping the temperature not too high helps to keep the nice green matcha color.
Mix the Self raising flour, sugar, baking powder and Tea People Matcha Powder. Add margarine and knead them into the powder mix until the mixture resembles fine breadcrumbs.
Add the milk. Knead the dough well.
Add chocolate chips.(optional)
Press dough on a lightly floured surface into any shape/s with thickness of 2 cm (or 0.7 inch).
Bake for about 20 – 30 minutes. Can be served warm or cold.