Awards, a machine and (food) fairs – oh my!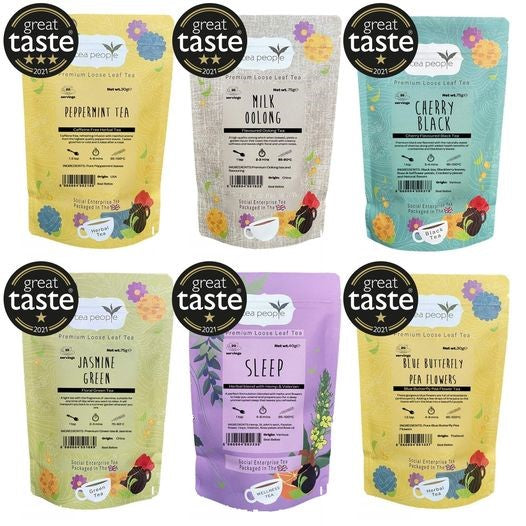 Wow, what a fantastic few months it's been here at Tea People!
We've celebrated even more awards, welcomed a game-changing new arrival on-site and been absolutely delighted to get back out on the road – spreading the word about our teas and our mission, and making some wonderful new friends along the way. So, without further ado, let's get you up to speed on what's been going on at Tea People since our last update …
Great Taste Awards – our first ever 3-star winner
You already know that our teas taste great but it's always nice to make things official, isn't it?
And last month, at the 2021 Great Taste Awards, we were delighted to add another six teas to our growing list of award-winners - taking our current tally to over 30 different varieties! This year's winners included our Milk Oolong, Cherry Black, Jasmine Green, Blue Butterfly Pea Flower and Sleep wellness teas. Even better, our Peppermint Tea was awarded a rare 3 stars and lauded by the judges for its "intense, fabulous, clean and minty taste with soft cream notes [which] delivered a great mouthfeel and [is a] delight to the palate." If you've not tried it yet, you can buy it in loose tea or tea pyramid forms using the links provided.
Of course, all our teas are winners in our opinion – so please keep those wonderful reviews coming and remember to tell your friends about your own personal favourites!
One huge machine for Tea People, one giant leap for … (ok yes, that's us too)
Ok, bear with us on this one because we know we've got some work to do to make this sound interesting – but here's why a huge lump of metal could be our biggest news of the year.
Earlier this month, we took delivery of our brand-new "Fuso FP-100S" tea bagging machine, marking a new stage in our journey and a potentially game-changing development for our business. As just the fifth of its kind in the UK, this latest model from Fuso is a state-of-the-art piece of tech which will allow us to bag our teas on site rather than outsource this stage of production. As well as reducing the time and money it will cost us to produce our popular tea pyramids – this step delivers more flexibility, which should mean fewer or shorter instances of your favourites being "out of stock" and gives us the option to sell more varieties in both loose and tea pyramid forms.
So it's a big investment, a huge milestone and a ginormous opportunity for our business but it's also an emotional moment - because it shows us just how far we've come. Plus, it means we can do even more to serve our customers, including wonderful people like you. So now you see - what's more exciting than that!?
It's … showtime!
Finally, over the past few months we've also managed to attend our first in-person live events since early 2020, including the BBC Good Food show. We love being able to share our teas and meet new customers (hi!) and other great small businesses (hello to you too!) so we were delighted to be back on the road spreading the word about our business and seeing so many happy faces as they discovered our great tasting teas.
Not only that, but we even managed a fabulous little collaboration with our new friends at Silverstone distillery – who used our Organic Very Berry loose tea to create a delicious botanical gin. We know, we know – is there anything our incredible teas can't do!?
So, yes, it's been a busy few months but our focus remains the same as always – bringing you a fabulous variety of great tasting, award-winning teas with a purpose. Until next time …